Senior Design is a two-semester series of courses (MEM 4971W and MEM 4972W) that must be completed in a single academic year (fall and subsequent spring semester). It should be completed your final full academic year at the University of Connecticut, although not always your final semester, as is the case with our August or December graduating seniors, and it is strongly encouraged that students have completed OPIM 3801 – Principles of Project Management prior to taking the first semester of Senior Design.  
MEM Students in Senior Design, are placed on teams of 3-5 students and are sponsored by a company who also assigns a project which the students must complete. Students are assigned a real task, working with a real company to solve a real world issue. This is great experience for MEM students to apply their four years of education into a singular capstone project. Every project is different, but students will each be challenged with certain elements that span both business and engineering capacities.  
At the end of the year, when each project is complete, there is a competition at what is known as Senior Design Demo Day. The teams present their project, and share the outcomes, analyses, and even their process to getting to the final. A selection of faculty come together as judges for the presentations and awards are given to each team. 
Senior Design is a requirement in order to graduate successfully from the School of Engineering, as well as for our accreditation in Engineering (ABET). It is a nation-wide program that all students graduating with engineering degrees must complete.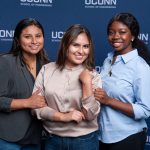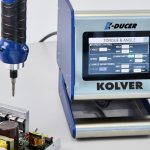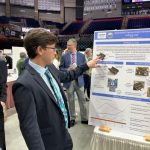 Recent News
Cummings Valvetrain (formerly Jacobs Vehicle Systems) will be on campus on Wed October 4. They have open intern and co-op positions. The event is being sponsored by our ASME chapter. When:  Wednesday, October 4, 2023 5:00 pm till 7:00 pm Where: School of Business Room 211 See the flyer below for more details. UConn Intern […]
[Read More]
Are you looking for a job, internship or co-op opportunity? Make sure you to attend the UConn Storrs Fall Career Fairs! There are plenty of job, internship and co-op opportunities as well as the chance to network with employers. All-University Fair Tuesday, September 19 11:00am-3:00pm Gampel Pavilion STEM FAIR Wednesday, September 20 11:00am-3:00pm Gampel Pavilion […]
[Read More]
"I got to interact with the assembly line workers all the time. That was a really great way for me to display my set of skills of working with people that streamlined me into this engineering job, where my primary function is working with assembly line workers in the company. So, it was a direct […]
[Read More]
Robotic Process Automation
Output Improvement of Screw Assembly Process
Sustainable Sanitation Initiative for Workforce Efficiency
Improving Furnace Maintenance Procedures and Eliminating Risk of Fall-Related Injury
Cost Savings through Eco-Friendly Heat Transfer
Spring Fatigue Test Stand
Enhancing Manufacturing Processes to Increase Productivity
Lyman Orchards Future Facility Design
Expulsion of Small Diameter Devices from Torpedo Tube Cartridges
Analyzing Digital Outputs of Ultra-Low Freezer
Reduction in Ergonomic Risk Factors
Design and Validation of Wearable Hydration Sensor
Automated Instant Measurement System
Competitor Analysis of UV Light Curing Machines
Robot Feeding System Implementation
Optimized Post Processing Treatment of Additively Manufactured AISi10Mg
Courier Software Efficient Use
Clamp Fixture Improvement for 5-Axis Machining
Design of Rack-Based Li-Ion Battery Module for Grid Storage Application
Integrated Workbench Implementation in Sub-Assembly
Manufacturing Blank Production Improvement Project
Bio-Inspired Navigation Device for the Visually Impaired
Fire Suppression Tank Autonomous Weight Detection Sensor System
Cell Redesign for Bolt Rework Process
Spreader Capacity Analysis
Value Stream Mapping
Army Ant Emulation
Electric Formula Car: Manufacturing and Documentation of Car and Suspension Uprights
VNA Material Movement Analysis
Smart Automatic Candle Extinguisher
Cost-Risk Analysis for Nano-coating Process of Electrolyzers
IoT for Predictive Maintenance
Electrically Actuated Valve
Advanced Composite Manufacturing Process
Assembly Process Improvement with Cobot
Autonomous Robot Docking Station
Distributed Hydroponic Farming
Single Use Personal Sanitary Barrier
Process Improvement for Research Lab's Data Management for Thermal Barrier Coating
Creating Manufacturing Agility
Industrial IoT
Universal Solution to Glove Waste
Non-Contact Testbed for Railroad Application
Improved Ultrasonic Wire Splicer
Understanding the Capabilities of IoT in Manufacturing