Location: Engineering II, room 102.
The lab includes 3D printers, primarily used for MEM 2212, as well as computers, and project space. Students are welcome to use this space during Lab Hours for meetings, study groups, group projects, and some social activities. The meeting space is able to be reserved by MEM students with swipe card access.
Swipe Card Access Permission
Students who wish to have access to the MEM Lab during hours when the lab is closed, are able to apply for swipe card access. They must complete a brief training on the space and sign a responsibility agreement before being granted access. At that time, they will be permitted to use the space with the rules of the lab and they will be able to reserve meeting space.
Open Lab Hours
Feb 7, 2022

-

May 1, 2022

| | Open | Close |
| --- | --- | --- |
| Sunday | | |
| Monday | 10:00 AM | 11:00 AM |
| Tuesday | 12:30 PM | 1:30 PM |
| Wednesday | 2:30 PM | 3:30 PM |
| Thursday | | |
| Friday | | |
| Saturday | | |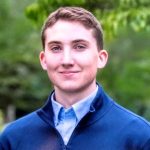 John Henry Breen, MEM Lab Manager
John Henry Breen is a Senior MEM student. He has served as an MEM Lab Manager since February 2021. John Henry worked as an Engineering Intern at Hollingsworth and Vose during the summer of 2021 and will also be working as an Undergraduate Teaching Assistant for MEM 2212 during the Fall Semester of 2021. He has experience with 3D Printing, CNC Machines, and the MEM program, and he worked alongside our previous MEM Lab Manager during the Spring term of 2021.