Getting an internship is something every MEM student thinks about at some point during their undergraduate career. It can help you gain professional experience, apply concepts you've learned and develop professional connections that can help you navigate your future career options. Archana Velathaupillai, MEM junior, had the opportunity to work for 12 weeks as a Manufacturing Engineering Intern with Otis Elevator at their manufacturing plant in Florence, South Carolina.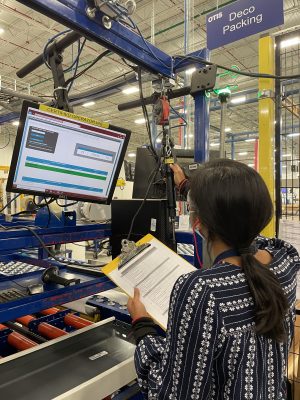 "This was a really unique internship because most of the time interns don't get to really work on the production floor, but this internship gave me that chance," Archana said.
Archana had the chance to work in operations on the production floor at Otis where she did time studies on production lines, 5S implementation on the production floor, improved standard work procedures, conducted internal ISO 9001 audits on specific production lines and participated on continuous improvement initiatives. She also spent time observing and seeing how the concepts she has learned in classes at UConn are applied in a real world setting. She enjoyed getting to talk to people in various areas within the manufacturing operation, including supply chain, engineering, and operations which helped her expand her network and career exposure, as she refined her ideas of jobs she would and would not enjoy in her future.
"At first I wasn't really comfortable, but as time went on, I got better at networking and scheduled appointments in other areas," Archana said. "As a result, I was able to expand my network, get more familiar with other areas and really refine what kinds of jobs I might want. I learned there were some roles that didn't suit me and others I may want to try to gain experience in during a future internship."
Archana says she landed this internship in the traditional way. She attended career fairs, had her resume reviewed by the Center for Career Development, and took advantage of mock interviews. At a career fair, she met and talked with the recruiter from Otis and made sure she maintained contact afterward.
---