Logan Miller, a Somers, Connecticut resident and University of Connecticut senior was awarded the Management and Engineering for Manufacturing Top Dog Award for 2021 for his academic achievement as well as his participation and commitment to the MEM program.
Each year the MEM Society, co-directors and staff work together to select the student who best represents and contributes to the MEM program. This student is evaluated based on criteria such as willingness to help other MEM students, volunteering at open houses and other MEM events, participation in the MEM Society, their reputation for treating students, faculty and staff with respect, and his or her positive demeanor, good character and ability to be a role model for other MEM students. It's a high bar worthy of the honor of Top Dog.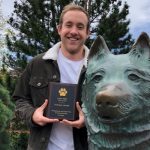 Miller portrays all of these qualities, having always represented the MEM program with enthusiasm, consideration and integrity. He served for two years at the MEM Lab Manager, assisting students with lab questions and working hard to make sure it was a place all students felt welcome and supported. When COVID-19 struck, he coordinated and implemented lab safety plans and used the time to train next year's lab manager, reorganize the lab and help think through ways MEM can be even better for future students.
He also served as an Undergraduate Teaching Assistant during his junior year for the MEM 2212 course, spent time studying abroad, served as the Treasurer for the MEM Society, interned at the Connecticut Center for Advanced Technology, achieved a high level of academic excellence, volunteered at every MEM open house where he answered questions and shared his experience with new prospects, and has been enrolled in the MS-BAPM 4+1 program.
"Logan was not only able to excel academically, but also outside of the classroom," said Professor Craig Calvert, co-director of the MEM program and Senior Design instructor. "He has been a consistent source of assistance to the MEM program and his peers through his lab manager position and his involvement in the MEM student society. My experience with him in his senior design project shows that he will do great things in the future."
Miller, who graduated May 2021 from UConn with his Bachelor of Science degree in Management and Engineering for Manufacturing from both the School of Business and the School of Engineering jointly, plans to go on to complete his Master of Science degree in Business Analytics and Project Management at the UConn School of Business. He began working toward the MS-BAPM program during his undergraduate studies as part of a 4+1 program with the School of Business and MEM.