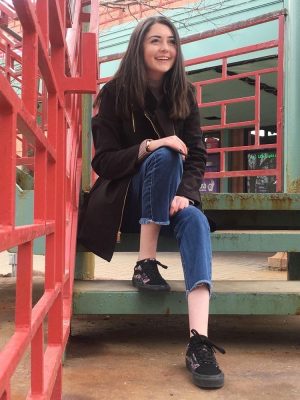 The University of Connecticut being a state university doesn't stop students from coming from around the world or across the country. Alexa Boden, currently a junior in Management and Engineering for Manufacturing came to UConn from Chicago, Illinois and brought her own goals and ideals with her.
"I moved to Chicago in eighth grade and lived in Singapore before then," Boden said. "My parents and family are from the northeast, so I spent a lot of summers over here and knew I wanted to go to college somewhere on the east coast."
While Boden considered both University of Connecticut and University of Rhode Island, she knew UConn would be her home as soon as she learned about the MEM program.
"I have always been interested in business and engineering," she said. "I like problem solving. I like design, but I like thinking about the consumer too."
Initially she was considering an engineering undergraduate degree and a one year master's degree in business following that, but when she discovered she could get an undergraduate degree that combined both business and engineering at once, she felt it was the perfect fit.
Spring Break her senior year in high school, she toured UConn and paid her deposit the next day.
"It was maybe a little spur of the moment," she said, "but it felt like the right decision. I wasn't stressed about college applications, which is not my normal personality, but I had good grades, test scores and a bunch of activities. I just knew there wasn't a bad choice because I was interested in both programs."
Boden says she is fortunate that even though she is far from family, she has close relatives not too far away. She also keeps in touch with her family with FaceTime and says she is fortunate her parents book her plane tickets to come home a few times a year.
"I know I am going to see them in a few weeks which is great," Boden said.
Boden said her parents also grew up in the northeast, so she was familiar with the culture here already and that it felt familiar, like home.
"I really like the northeast. It is really pretty and the states are smaller so you can travel around, take trips into New York City, take trains or drive other places. It is just much more convenient," Boden continued. "I will probably stay in the East Coast to work, if I stay in the U.S., but ideally I would like to get a job internationally – probably something related to design, specifically wearable design."
Boden said she is looking forward to a career related to design, specifically wearable design, and focus on sustainability and how the design interacts with the wearer. She explained this could mean anything from a prosthetic, diabetes technology or an apple watch.
"I enjoy the people aspect of creating something. I want to understand who is using it, what they are using it for, what the company goals are," she said. "As a young person I want to think about designs that are useful and aren't going to harm our planet even more."
She explained that in high school she had the chance to take engineering classes and she did her capstone course with Project Lead the Way. "There was a girl who was born with only part of one of her arms. It stopped at her elbow, but she wanted to play the recorder so she needed both hands. We wanted to design a prosthetic for her that would help her achieve her goal, but also would be something she was proud to wear," Boden said. "We made these adaptable pieces that connected to a bracelet. She was a little girl and wouldn't want to wear something boring and gray, so we gave her pink and purple and sparkles and her favorite dog."