We love hearing about our MEM student's internship experiences and we love even more when we can share new openings with them. Last September Allison Pfahler received an email from MEM, along with the rest of MEM students, with details of a new internship opportunity at Niagara Bottling. This summer, she spent her summer working there as a manufacturing intern.
Niagara Bottling is a leading beverage manufacturer in the U.S., supplying major retailers across the nation.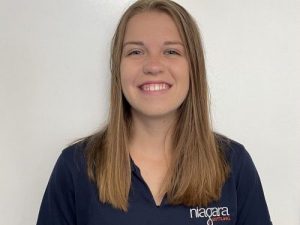 When Allison saw the email from the MEM office, she knew she wanted to apply quickly because it aligned so well with her interests that she had developed in the MEM program. Soon, she found herself touring the plant and interviewing as a finalist for the position, and she knew it would be great fit.
"The people at Niagara are a large part of what makes the internship so special," Allison said. "Everyone from the managers to the production operators were eager to meet the interns and help in any way they could. The plant was always a welcoming environment that encouraged asking questions and jumping in wherever you were interested."
Allison went on to explain that after shadowing team members in each department, she was given the opportunity to choose which projects she wanted to work on for the summer.
"I picked up a project in the warehouse and was able to start it from the initial steps and implement it with the team in my last week," she said. "Everyone helped me get the resources I needed to complete the project and taught me everything I needed to know."
Throughout the summer, the company provided interns with resources to be successful such as professional development seminars and mentors at the plants. Allison was paired with an MEM alumnus who was able to give her advice on different projects and connect her with people and information that she needed to be successful throughout the summer.
Allison offers three key pieces of advice for future MEM interns, no matter where they intern.
Ask questions – asking questions helped her understand the process better and led her to be more successful in what she was working on.
Be available – being available and flexible put her in a position to be able to be used whenever needed
Be flexible – in a fast paced environment such as Niagara, being flexible and jumping into situations where help was needed was the best way to learn