John Henry Breen, a Walpole, Massachusetts resident and University of Connecticut senior was awarded the Management and Engineering for Manufacturing Top Dog Award for 2022. This award is jointly selected by the MEM Society, co-directors and staff and awarded to the student who best represents and contributes to the MEM program.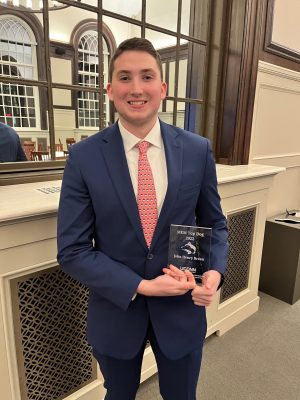 Nominated students for this award are evaluated based on criteria such as willingness to help other MEM students, volunteering at open houses and other MEM events, participation in the MEM Society, their reputation for treating students, faculty and staff with respect, and his or her positive demeanor, good character and ability to be a role model for other MEM students. It's a high bar worthy of the honor of Top Dog.
Last year, Breen was awarded the MEM Engagement Award for his outstanding support of the MEM Program, which never ceased during his final year at UConn as well.
Breen notably served as the MEM Lab Manager after a semester as the assistant lab manager, in which he showcased his leadership skills, positive attitude, eagerness to help others and passion for the MEM program. He also served as a TME Student Mentor as well as an Undergraduate Teaching Assistant for the School of Engineering. In addition, he was Secretary (2020-2021) and later Vice President (2021-2022) of the MEM Society. He could regularly be found volunteering for MEM events, offering academic assistance to his fellow students and MEM faculty and staff.
Last Summer, Breen also was hired as an Intern at Hollingsworth and Vose where he was able to apply statistical quality control and continuous improvement knowledge to accomplish the business goals.
Breen's capstone Senior Design Project was with the Naval Undersea Warfare Center where he worked alongside student team members from various other Engineering fields.
Breen, who graduated May 2021 from UConn with his Bachelor of Science degree in Management and Engineering for Manufacturing from both the School of Business and the School of Engineering jointly, will be starting his career as a Rotational Development Program Associate at ASSA ABLOY.