What do you get when you mix baseball and engineering? Elijah Taitel, a University of Connecticut senior in the Management and Engineering for Manufacturing program, will tell you, "The ProVelocity BatTM."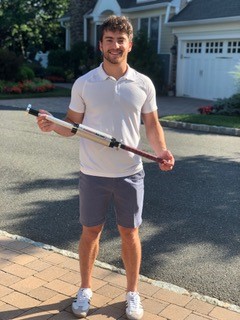 As a 17-year-old in Short Hills, New Jersey, Taitel was feeling frustrated that he didn't have many baseball recruiters looking his way. "I was a good player, but not the best, so I knew if I wanted to have a chance to play in college at all I needed to work on my swing," Taitel recalls. That is why over the summer going from high school junior to high school senior, he decided to invent something to help improve his swing. "There really wasn't a product out there that I could find that would help me train in hitting," he said. "Just sheer hours and doing a lot of different things is what people usually relied on to improve their swing."
After a few months of using his invention, his swing improved enough to turn the heads of some baseball recruiters at smaller colleges. "I was personally impressed with this bat because I had gotten so much better in such a short period of time," he said. "That's when I knew it could help other people too."
During his senior year in high school as he was considering his college options, he recalled a conversation he had had with his sister a few years earlier. She had visited UConn and had told him about the Management and Engineering for Manufacturing program. While he was initially interested in Brown and Northeastern, he soon decided to attend University of Connecticut and says it was the best decision.
While he never did opt to play baseball for the Huskies, he never stopped working on the bat, and after a few years and about 75 iterations of the design, he launched The ProVelocity BatTM and began marketing it. He started by introducing the bat to coaches at prep schools, but they didn't have much interest. Nonetheless, they connected with him with a recruiter in Tennessee who loved it. He had had his players use it for three weeks that summer and saw a 4 percent improvement in hitting, which was significant for that team. "While it wasn't exactly scientific," he said, "it was some great anecdotal data that we could use, and that word of mouth definitely helped get things going."
Soon after, he was connected with a coach at the Tampa Bay Rays to whom he offered a discount to get them started. While the coach didn't immediately take him up on that, he later went on to be a major league hitting coach for the Chicago Cubs, and at that point in 2021, he placed an order for 20 ProVelocityTM bats.
Coaches, players, and parents of young athletes are all raving about the improvements they've seen and how easy this bat is to implement in their training programs, according to reviews on the ProVelocityTM website.
After graduation, Taitel plans to continue to work on the ProVelocityTM business. "Right now, it is profitable," he explained. "I used my bar mitzvah money to get it up and running, but now we are turning enough of a profit that I can afford to continue working this business, so I plan to do that for a few years at least."
While Taitel manufactures some of the smaller bats in a room at his residence, the adult-sized bats, the 32-inch Standard Shaft and the 33-inch Extreme Impact, are both manufactured at a machine shop in New Jersey.
While he initially was just trying to improve his own swing, Taitel landed on an idea that may just change the face of baseball training, and with his education in Management and Engineering for Manufacturing, he has the tools he needs to grow this novel and exciting business venture.
The ProVelocity BatTM can be found at provelocitybat.com where three sizes of bats can be ordered, and interested parties can locate data from a variety of studies on hitting performance improvements.