Management and Engineering for Manufacturing might be described as the marriage of Business and Engineering degrees, but every so often, it actually inspires true love.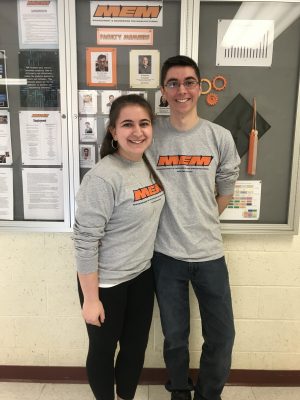 Victoria Marino and Justin Cooper, both class of 2019, met in the fall of 2016 in MEM 2211. Justin had just recently transferred to Storrs from the Waterbury campus. He walked into his Introduction to Manufacturing Systems class, then taught by Dr. Roy and Dr. Thakur, and sat down near a mutual friend who introduced him to Victoria.
"I was excited and I wanted to meet him right away," Victoria said. "I wanted to get to know as many people as possible so I would never have to do homework alone and would have people I knew to do group projects with. We became good friends that semester while working on group projects and having a lot of mutual friends."
The couple didn't start dating until the fall of the following year, however. "Well, we had one date the previous spring," Justin said.
"Except I didn't know it was a date," Victoria reminded him. "He asked me to lunch, but I didn't know he was thinking it was a date."
"It was great though because we talked and got to know a lot more about each other that day," Justin said.
They dated the rest of the way through college, sharing friend groups and working together. "We were even lab partners for Sensors and Data, which was great," Justin said.
"It was great because we always tried to get in the same group for group projects and it was so nice to get to know each other as classmates and partners," Victoria said.
"Working on projects together, seeing how we solve problems together, and how we manage stress was really good," Victoria said. "The Industrial blower report was one of the first really difficult projects we had to work on together and Justin really eased the stress."
"I liked to make her laugh," he said. "And still get serious when we needed to get to work too."
When Senior Design came around, the couple's friends were taking bets on whether it would be their demise. Thankfully, they said, they were assigned to different projects.
"That was probably a really good thing because Senior Design was really stressful," Victoria said.
"We never called in those bets," Justin said glancing at Victoria.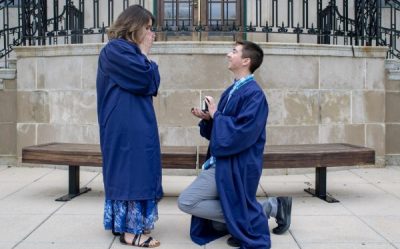 Just a week before graduation while the couple was taking graduation pictures together in front of Castleman, Justin dropped to one knee and proposed. "It was my favorite building so it was a really romantic place to do that," Victoria said. "I always wished I had more classes there, but now I have this memory."
While the couple had planned to marry in May of 2021, they postponed their special day due to Covid concerns and are now planning their nuptials for April 24, 2022. "We are hoping to have an MEM banner at our wedding," Victoria said. "The one with the old logo."
They expect many of their MEM friends to be in attendance, including Victoria's best friend who is also an MEM alumna and will serve as her maid of honor.
Victoria Marino currently works at Kaman Precision Products as a New Product Development Engineer and she accepted the role as MEM Industry Advisory Board member starting summer of 2021, while Justin Cooper works at a small direct-to-substrate printer manufacturer.