Where do you see yourself in 5 years? That's one of the most commonly asked questions in interviews, and also one of the most difficult to answer – it's all a guess, really. In the course of five years, so many things can happen; unpredictable things like global pandemics; fun things like relationships; and more predictable things, like getting that first job.
How your next five years will turn out will depend largely on which opportunities you take, your determination and your attitude,… although we all know an MEM degree doesn't hurt either.
Recently, I decided to reach out to some MEM alumni from the class of 2017 and ask them about their experiences over the last five years – what surprised them and what advice they'd have given to themselves back on their own graduation day five years ago. Here is what they had to say:
Connie Bowman currently works at General Electric as a Lean Transformation Team Member at General Electric.
Connie could also be described as a lean supply chain specialist doing internal consulting, and she is most surprised that she is still working for General Electric since she joined GE right out of college. She isn't surprised she is working in Lean, however, as she was drawn to this area since learning foundations in MEM classes.
If she could have given herself a piece of advice on her graduation day, it would have been, "Be confident! Take more risks. Get to know the people better! People are key. They are your network for success."
Anand Gupta currently works at Pratt & Whitney as a Program Manager in their Geared Turbofan Program Office.
There Anand helps manage the business and technical aspects of their largest commercial engines program.
The biggest surprise for him was that he is now attending law school. He is glad he ended up in program management, but he hopes to do legal or contracts work in a business environment such as Pratt & Whitney next. He says he has no idea what he will be doing in 10 years.
If he could give himself advice on graduation day, he says he would say, 'Be open to different opportunities, and be careful to choose an industry that speaks to you. It's more fun coming to work if you believe in the company's path."
Jackson Haigis currently works at Pratt & Whitney as an Account Socialist in the Global Supply Chain organization.
He has been most surprised that he ended up in a less technical role than he ever thought he would be, but he really enjoys what he does.
If he were to give himself advice on his graduation day, he says he would tell himself, "Don't be afraid to jump in the deep end and take on a new challenge."
Connor Mitchell currently works at Kering as an Operations Process Engineer on the Logistics Team.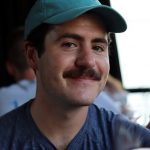 What has surprised Connor the most was working in logistics for fashion and luxury goods, after starting his career in a manufacturing heavy environment.
If he could go back and give himself advice on his graduation day, he would have told himself that "real education starts after graduation; don't become complacent; continuously re-evaluate your own goals, and make them known to your family, friends and manager."
Caitlyn Syrett is currently working at Pratt & Whitney in Military Engines as a Fleet Logistics Specialist.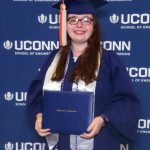 There she is in charge of sourcing spare parts to military bases for the F135 enginer. Her position in particular focuses on supplying deployed carrier ships.
What has most surprised her was when she started at Pratt, she accepted a rotational position in their Aftermarket Operations program. By joining this rotational program, she moved three times in two yeas and lived in Connecticut, Georgia and Michigan. She says it definitely took her out of her comfort zone because she thought she would stay close to home in Connecticut. However, moving wast a great way for her to grow professionally and personally, and helped her professional network grow so much too.
Her advice to herself on her graduation day would be, "Don't sweat the small things." She didn't have a job lined up coming out of school or the very best GPA, but she still got a really good job and is currently very successful. She was the first to graduate from Pratt's, then, brand new rotational program and she has received many awards at work, including Employee of the Month for Military Engines. "It is all what you make it."
Michael Vaghi currently works at TriVista Business Group as a Consultant.
What has most surprised him is that he never really thought he would get to work in a job that allows him to get exposure to such a variety of different industries and help solve their problems.
If he were to give himself advice on his graduation day, he would say, "be open minded about pursuing other career and job opportunities. Windows of opportunity are very short, so if any part of you thinks it's a good fit for your growth aspirations, always make the jump."
Evan Wexler currently works at Slalom Consulting as an Associate Consultant, Data and Analytics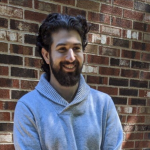 What has most surprised Evan was Connecticut, he says. He has been surprised that there are so many great jobs, great companies and communities here in Connecticut, and after working in NYC for two years, he came back to Connecticut and is glad he did.
If he were to give himself advice on his graduation day, he says he would tell himself, "Don't be afraid to try something different – if something is not enjoyable allow yourself to experiment with other opportunities to find what is right."
---