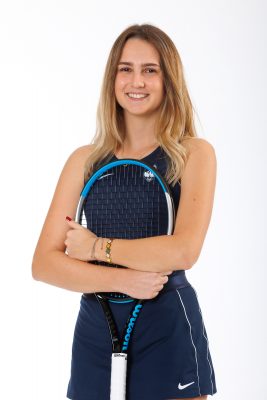 Students who come to University of Connecticut and choose the Management and Engineering for Manufacturing (MEM) major often ask if it is really possible to graduate in four years. It is known for being one of the most rigorous undergraduate programs anywhere with 138 required credits to graduate, a very structured curriculum of required courses and few electives. Students wonder if they will have time to do anything else. This year, Doga Takunyaci is proving that not only is it possible to graduate on time in four years with an MEM degree, but also to do so while playing varsity tennis for the Huskies.
Coming from Turkey, Takunyaci knew she would ultimately major in either Mechanical Engineering or MEM and UConn offered the best mix of scholarships and academic options after she spoke with athletic recruiters from many universities. As a competitive tennis player on Turkey's national team, she had caught the eye of UConn Tennis for good reason and started as a UConn freshman in the ACES program when she was 19 years old.
"I began as an ACES exploratory major even though I knew I wanted to major in either ME or MEM, so I made sure to take the classes that were common to both majors and that way I didn't get behind with the required classes," she said.
Everyone at UConn and in the athletic department was so friendly, welcoming and helpful. While initially she was able to carefully choose her classes to not conflict with her very busy training schedule – six tennis practices per week plus three lift training days – she eventually had to negotiate her junior and senior schedules with her coaches.
"I saw that some MEM classes were always offered at the same time each semester so after a while I knew I would have to work with my coaches," she said. "They were very supportive with adjusting my training times, and my instructors have also been supportive when I have to miss classes for matches."
This fall Takunyaci is off season but still has away matches, such as one coming up at Army. These matches often take place over weekends including Fridays which demands she miss her Friday classes.
"I already talked with my professors and they are really understanding too," she said. "Professor Cunha records all his lectures so I can watch them after and Professor Calvert said I will be missing guest speakers, which is a bummer, but there is nothing I can do about that."
Decided MEM, it is challenging, requires a lot more credits, being a student athlete was challenging with the schedule. She had lifts three days a week and regular practices six days a week and matches on weekends which occasionally conflicts with Friday classes. Some classes conflict with classes and lifts so she had to adjust those. Most semesters we need 18 credits or more so she had to do some summer classes to catch up.
Being an international student athlete has not been without its challenges, Takunyaci notes, when asked about possible language struggles she may have faced in addition to her busy schedule. "It was more difficult the first year with English as my second language and it is getting better now. I take a second before I talk and sometimes it can be challenging in labs because I may not always know the terms or the names of the objects we are working on." She insists it has gotten easier, but that her language would have also helped if she hadn't had her American college experience interrupted by COVID. "Being home during COVID was definitely an interruption and hindered my language learning, but in some ways having the classes recorded was helpful because I could watch a lecture a few times if I didn't understand a part," she recalls.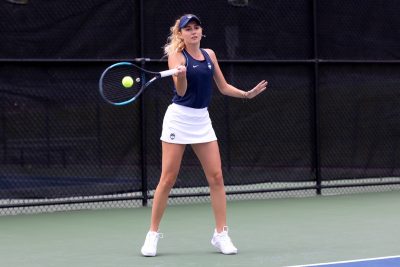 Takunyaci encourages, "Being successful in MEM as a student athlete will really depend on the sport and on the coach and if they are really hard working and really passionate about going into engineering and want to learn more of the business side too then I totally recommend it."
Although she was very determined to graduate in four years, with the MEM curriculum requiring about 18 credits per semester, she used summers to catch up and take a few classes, as well as gain more experience in an internship in a field she was interested in learning more about.
After she graduates she hopes to pursue either a master's degree or a Ph.D. in something energy related. She would like to pursue a career in the energy industry.
"MEM majors have a lot of options when they graduate and that is one of the things I like about it," she said. "When I was choosing my major I talked with my dad about it … he is a Mechanical Engineer in Turkey. We were talking about what he is using in his career and he told me his field requires skills from the business side that he needed to learn after he graduated." Takunyaci considered a major in something like industrial engineering but found the UConn MEM program to be even broader with the business aspects.
---